Employment Solicitors Rated Excellent on Trustpilot
Choose your bundle
All work is undertaken by one of our experienced panel employment solicitors regulated by the SRA in England and Wales.

No Win No Fee Employment Solicitors
Offered in very few occasions where a case is evaluated for its merits to take on on a No Win No Fee basis. In such cases, if you win then the sum you receive will be vastly less than the amount you would have won as the solicitor fees will be greater.

You may find other solutions to be more cost effective to ensure you don't pay too much of your final award in legal fees.

Employment Solicitors
We provide specialist employment lawyer advice from our panel of employment law solicitors. Whether you are still employed and dealing with a dispute over anything from discrimination to breach of contract, or you have left or lost your job and feel it was a constructive dismissal or an unfair dismissal, our employment solicitors can help guide you through the process of first raising a grievance with your employer, right through to appearing at the Employment Tribunal.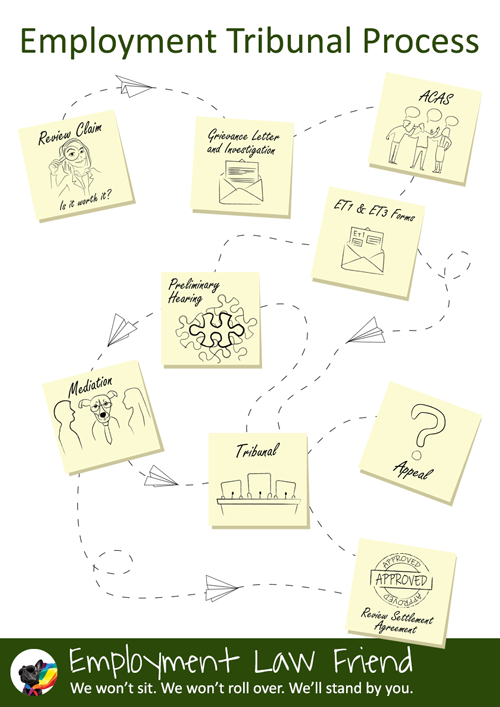 Get employment lawyer advice on:
Discrimination
Unfair dismissal
Constructive dismissal
Redundancy
Settlement agreements
We appreciate how you must be feeling so will do all we can to help. Our employment law solicitors are friendly and easy to talk to. Right from the start our panel solicitor will give you the honest advice as to whether it is worthwhile getting a solicitor or if you should look to move on and find a new career elsewhere.
What services can our employment law solicitors help you with?
1

Review of Your Claim. Have a consultation with one of our panel of employment law solicitors to discuss your claim. If you have a chance of winning we'll tell you.
2

Draft Grievance Letter

. The backbone to any employment claim is your

grievance letter

. A well worded letter at the start may increase you chances of success or bring about an earlier settlement.
3

Submit ET1 to Tribunal. The start of any employment claim is your application to the Employment Tribunal.
4

Preliminary Hearing. Support at a case management hearing with either our employment solicitors or barrister.
5

Mediation. The majority cases settle before they ever are heard at Tribunal. Find out what is a good offer or a bad one by having settlement agreement solicitors.
6

Trial. Drafting witness statements, Tribunal applications, submissions, preparation of evidence bundles, representing you on the day at Tribunal.
7

Appeal. If you lose on the day then you can appeal the decision.
8

Review of settlement agreement

. The terms of your Settlement Agreement can vary from a water tight company agreement to the

ACAS COT3 Settlement Agreement

. You need to hire an employment lawyer to review the agreement and the fees for this are normally paid for by your employer.
Frequently Asked Questions
Here's where we help! It is very important to no only choose a solicitor based on their affordability, but also on their service reviews, terms of service and also on how well you gel when speaking to them. An employment case can take years to see through to the end so having an employment solicitor who you trust and who you like will help if the case drags on. We only put you in touch with our very own approved employment law specialists.
Get in contact and our solicitor will review your case and confirm whether or not they will agree to act under a No Win No Fee Agreement. Not all cases do, however it might be worth finding out if yours does and if it doesn't, what other options there are available to you.
For a free consultation it is often best to speak to ACAS. You can however get an employment solicitor to review your case and for them to provide their opinion on the merits and potential claim of pursuing your case. We can help with this for you today so please get in contact.
Our approved solicitors will never recommend that you hire them if they think it would be a waste of your time and money.
An employment lawyer is trained to handle all types of employment law from unfair dismissal to constructive dismissal cases. During you initial consultation with your solicitor you should discuss what other employment cases they have handled. Whilst every case is different, the tactics adopted along the way are often the same.
When your cases progressing through the Tribunal process your solicitor may look to hire a barrister to present your case to the Judge. The solicitor prepares the case and witness statements and the barrister presents your case to the Judge.
The reason for splitting the responsibilities is so that a Barrister will present cases to a Judge on a day in day out basis so will be more used to court protocols, tactics and how the Judges award different types of cases.
You do not need to be near your lawyer to get employment law advice. In fact is much better to find a solicitor who specialises in this area rather than try and find a local solicitor near you.
If you do work with a solicitor who is not near you then they will employ the services of a local barrister to argue your case at the preliminary and final hearings. Depending on the size of the case, the law firm may send a solicitor to be with you at the hearings along with the Barrister..
This content is provided free of charge for information purposes only. It does not constitute legal advice and should not be relied on as such. No responsibility for the accuracy and/or correctness of the information and commentary set out in the article, or for any consequences of relying on it, is assumed or accepted by any member of our company. For employment law advice please get in contact and speak to your employment law solicitors.